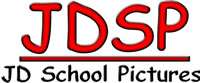 Administration
JD School Pictures offers schools many options for school photography. Click on the Administration tab to access our variety of products and services for School Pictures!
Click Here to Download the JD School Pictures Catalog link
About Us
JD School Pictures is a well recognized and accredited school photography business. We have been capturing the smiles of your children with film, and now digital, for thirty years. The business is family operated and all of the processing is started and completed at JD Photo Imaging right here in Flint Michigan. JD School Pictures specializies in school pictures and provides your schools with the tools they need to run libraries, lunch programs and security programs.
Thank you for visiting the website and enjoy your pictures.
Contact
JD School Pictures is located in Flint, Michigan inside JD Photo Imaging. All of our printing is done right here in this plant. Hours of operation are 8:00am-5:00pm Monday thru Friday.
We do have several retake days here in our plant before the Winter holidays. If you are interested in a retake or just having a new picture taken to purchase, the dates will be posted as we set them up. Feel free to give us a call for more information.
JD School Pictures/ JD Photo Imaging
3018 Corunna Rd.
Flint, MI 48503
810.239.5509
Fax: 810.239.5529
e-mail: Robin@jdschoolpictures.com
www.jdschoolpictures.com
Links
Other websites to assist you in ordering school pictures or contacting the lab for any other services:click here or e-mail us
Also, if you would like to read about our "click-and-safe program for school photos