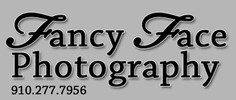 About Us
Fancyface Photography
Hello !!!! I am Billy Hilburn the owner and a photographer with Fancyface. My wife Amy is a photographer also. We both enjoyed the art of photography for many years and were encouraged to pursue it professionally by friends and family. It all started out as a hobby, with me taking pictures at family members weddings. Amy has always loved to take pictures, of everyone, of everything, at any given time (even our dogs know what a camera is)! Amy always has a camera nearby! Together we found love for each other and a hobby that allows us to express ourselfs artistically. Fancyface offers outdoor photography, indoor studio photography, fast-action shots, protraits, pregnancy shots and weddings as well. We are devoted Christains and firm believers in Jesus Christ, without him we fill this would not be possible. We give GOD the glory!!!! Thanks for stopping by. Hope you enjoy the website!!!!
Pricing
CD Pricing
CD with up to 30 pictures $25.00
CD with up to 50 pictures $35.00
CD with up to 75 pictures $45.00
CD with up to 100 pictures $50.00
* These CD prices are for portraits or family portraits only!
Pregnancy Shots / Engagement Pictures /CD $30.00
Wedding Package 2 hours $250.00 includes all pictures taken during the 2 hrs. on CD, each additonal 30 mins is $50.00!
Bridal Portraits $100.00 includes all pictures taken during shoot on CD, and a picture of your choice in a Beautiful 25 x 21 Frame. We have a matching easel that can be rented for $20.00.
Call for pricing on Parties/ Reunions/Fast -Action Shots or other events.These prices are for local locations only and prices are subject to change.
910-277-7956
Contact
Fancyface Photography
You may contact us at:
910-277-7956
or by email
fancyface_photography@yahoo.com
Specials & Gift Certificates
Scotland High Band Booster Card
Free 8x10
with a $35.00 or more purchase
~Gift Certificates~
available in any amounts
910-277-7956
fancyface_photography@yahoo.com